Thanks for dropping by!  I'm so very happy to share my studio with you!  I have enjoyed teaching piano & keyboard in Winston-Salem for over 30 years now, and continue to enjoy helping others to learn to play.
I always strive to make sure my students enjoy and feel part of their lessons, gearing lessons toward each individual's learning style and personal musical tastes.  Students can learn to read music or  learn to play by ear.  Some enjoy learning a little bit of both! After they get some basics under their belt, they can then ease into their favorite style of music.  We stay flexible regarding the music curriculum, keeping each student's individual goals in mind.  I try to incorporate a bit of ear training and music theory into everyone's learning process. This opens up students' understanding of the music we are playing and helps them to  feel more part of the music.
Sharing the wonderful gift of music, and knowing that the legacy of music will also become part of my students' family heritage,  is without a doubt one of my greatest joys in life!  We offer fantastic family discounts for more than one household member taking lessons. 
New students are welcome to start their lessons any month of the year.  If a student wishes to start in the middle of a month, they can just pay for how many weeks are left in that month. Flexible scheduling allows for make-up lessons or rescheduling when considerate notice is given.  Lessons are offered year round, and we gladly work around people's vacations and plans, offering makeup lessons for those weeks missed when it is convenient.
Beginners are always welcome!  I am enrolling students ages 4 thru 104.   It is never too late to learn!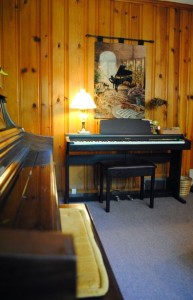 See my Policies page for regular rates and other considerations.   If you have taken lessons elsewhere, you will probably appreciate and identify with them.  The consideration and cooperation created by these policies allows for a mutually enjoyable and cooperative experience at our studio.
Take a look through the studio web pages here for more information.  Email me at the email adress shown on our Contact Page, or fill out our easy New Student Interest Form!  I will then contact you to discuss your needs and interests, and schedule your lessons!
I'm looking forward to helping you to begin or continue your music studies.  Congratulations for making music part of your heritage!
Sincerely,
Robin Gonzales