Welcome to the "fun and sharing page" for my enrolled students!
Updates from Mrs. Gonzales:  Hope everyone is enjoying the holiday season! As always, please keep your piano lesson schedule in mind when considering other activities.  If you need to adjust your scheduled lesson time, be sure to get in touch with me as soon as possible, so that you will have more available options.  This is a great time for learning Christmas and Holiday songs.  Bring them to your lesson, and add some fun!  We will have lessons all thru the season, with a break on Friday Dec 23rd & Saturday Dec 24th, and then of course, Christmas Day, which falls on a Sunday this year.   If you have any special plans that you need to reschedule for, just let me know, and I will be happy to accomodate you, as usual!
Exciting Student News:  Students may now also share their extra special accomplishments or upcoming events by contacting me and giving me permission to share on our students page here!
Hunter's Corner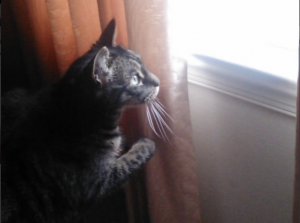 - Welcome to Mastercat Theatre, hosted by  Hunter Gonzales. "We are so glad to have the opportunity to share some interesting and inspiring information with you.  Believe it or not Cats love music too. And, we really look forward to seeing you each week!  Be sure to check us out every month for interesting and fun music facts, for learning or just to have fun.  See below our subject for this Holiday Season!
This month's  subject:  "Rejection – Don't Give Up! "  Do you know who the guy is that wrote "Nutcracker Suite" and the famous "1812 Overture"?  This is very famous music played all over the world every year during the Holidays and sometimes used for large fireworks displays!  His name is Peter Tchaikovsky!  (that's pronounced "Chie-cough-ski").  Did you know that two of his most important music professors(music teachers at college) criticized his music a whole lot?  He didn't give up, though, and kept working on it harder and harder to get it more and more perfect, and now look how famous his music is still today?  He also wrote "Peter and the Wolfe", "Romeo and Juliet" overture, and two other ballets besides the "NutcrackerSuite" -  "Swan Lake", and "Sleeping Beauty" !!    Click on this link to watch/listen to an exciting dance scene in his "Nutcracker Suite" ! http://youtu.be/NzSGBGWO3r4
……be sure to check out previous months' music subjects for more fun and interesting knowledge and trivia below:
For September:… "With all the sadness and trauma going on in the world  at the moment, it is worth reflecting on the death of a very important person, which almost went unnoticed last week. Larry LaPrise, the man who wrote "The Hokey Pokey", died peacefully at age 93. The most difficult part for his family was getting him into the coffin. They put his left leg in. And then the trouble started….   : )
In August…
'
Cantatas
'  ("cun-tah-tuhs")  Back in the 1600′s and 1700′s worship services could last for 5 or more hours!  They needed lots and lots of music to keep everyone awake and interested.  Johann Sebastian Bach wrote a lot of worship music called 'cantatas' .  A cantata is usually a beautiful piece of music that has a lead singer or solo instrument, a choir and an organ or orchestra.   Bach wrote hundreds of them!  Bach's cantatas usually used hymn tunes, called '
chorales
' ("kor-Al s"), that most people knew and loved.   Listen to and view a beautiful famous example of one of Bach's cantatas at  this link
http://youtu.be/HSZg6sQ5J2k
.