Here are the Policies that the students and I over the years have discovered definitely allow for a more enjoyable, cooperative experience at the teaching studio!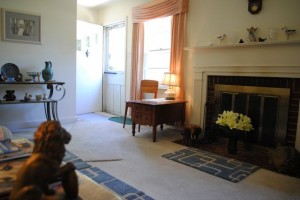 Scheduling:   Lessons are scheduled at a regular weekly day & time, with some flexibility for rescheduling.   Make-up lessons are offered when considerate notice is given by the student before needing to miss a lesson.  Students may cancel up to one  hour before their lesson time for emergency situations and still qualify for a make-up lesson.
Rescheduling:   If your schedule changes, you are welcome to discuss changing your regular time slot.  I will work with you any way I can to assure a student can continue their lessons on a progressive basis.
Courtesy:  All students and parents are asked to show respectful consideration of the student that is currently in their lesson session scheduled during the time slot before your lesson time, and for the student that is scheduled after them.  Students should not arrive more than 5 minutes before their own scheduled lesson time, and should be picked up by a responsible adult at the ending time of their scheduled lesson.   The teacher must give all of their attention to the next scheduled student.
Rates:  Lesson fees are paid on a monthly basis, and are due by the first week of each month.  Checks, money orders, and cash are all accepted.   Monthly lessons for one household member standard fee is $100 per month.   Additional household members are offered a generous 25% monthly discount on a regular basis after the first student pays the regular monthly lesson fee.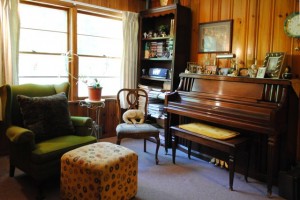 Accommodations:   Up to two students from the same household may be delivered to or left at the studio at same time.  The only exception would be if a third person is a responsible adult or responsible older sibling of at least high school age.  When more than one student under high school age is left without a responsible adult, the second student will be allowed to wait in the actual teaching room, observed and supervised by the teacher during their sibling's lesson, and remain respectfully quiet and reasonably still.  They may work on their school homework or reading.  Some coloring pencils, and music storybooks are available for their entertainment, as well.  Students should have their healthy after school refreshements and rehydrating  before arriving (easy on the sugar please – this will affect the quality of their learning experience).
Inclement Weather:  If  inclement weather such as snow or ice should make travel hazardous, the teacher will notify students and make-up lessons will also be offered for these, as well as any other lessons occasionally cancelled by the teacher.
Premises:  Parents and students need to remember that the piano studio is also a personal dwelling.   Very young children need to be supervised and guided to and from their delivering vehicle by the parent or adult that brings them to the lessons, and by the one who picks them up.    The kitchen, bedroom, and office areas, and any other areas not designated for teaching, with the exception of the waiting lobby and restroom, are considered off limits.  Young children must also be accompanied to the  restroom by their parent or responsible older sibling.
Sickness:  Students should call to cancel their lesson when they become sick, or if they are still coughing or sneezing following a cold, virus.  They should always cancel when there is a possibility of spreading any type of airborne infection, since we are working together in very close contact.  Make-up lessons will be offered to them, as long as they notify the teacher before their lesson time, and up to 1/2 hr before lesson time in emergency cases.  Students should also call to cancel when they have or suspect pinkeye, poison ivy, chicken pox, measles, or any other type of transferable infection.
Student Preparation:  Students who require eyeglasses in order to see properly should always bring their eyeglasses to class and wear them during the lesson.   Students should also prepare ahead of time the night before or that morning before leaving for school or work to  make sure they will be bringing their lesson books and materials.  It will ensure better success if I can write helpful tips in their own lessons books for their use during practice at home. 
Payments:  Lessons are paid each month by the beginning week of that month. Payments will be accepted in the form of cash, personal check, or money order.  Payments for any month must be received by the end of the 1st full week of that month or Before.   Lesson fees are for 4 wkly lessons per month.  When a certain weekday occurs 5 times in a month, the teacher will notify the students which weeks we will not have lessons.  Any other weeks a student needs to miss, as long as they give the teacher considerate notice, will qualify for a make-up lesson. Payments will be received every month of the year in full, with makeup lessons  offered for weeks missed due to a student's family vacations.  This assures students can learn and progress continuously, while reserving their weekly day and time.  If a student discontinues their lessons for any length of time, they will return at the new student monthly rate.
Annual Schedule:  Music lessons of any kind are a progressive year-round study, with as much consistent regular attendance and daily practice as possible. If a student needs to miss one or more weeks due to a vacation or other plans, including the summertime, generous consideration is given, and makeup lessons are scheduled.   Regular scheduled time slots cannot be held without payment for breaks.  Makeup lessons will be scheduled within a reasonable time to be sure you receive your paid lesson values.  These can include one-hour makeup lessons if available or convenient, in order to save you some travel time.  If a student discontinues their lessons for any length of time, they will return at the new student monthly rate.
Checks:  Check payments are accepted in good faith, and are depended upon to be valid.  If a lessons payment is returned nsf, the student/parent needs to reimburse the teacher for penalties charged to the teacher's bank account.   This and the original payment will need to be delivered immediately to the studio as cash as soon as the error is reported.   No one wants their paycheck to be late or invalid.
If necessary, students may write a post-dated check to be sure it will clear, as long as the check is good no more than one week later than the date of the first week's lesson, and if this consideration is only used occasionally.